The Patriots have again escaped in a 'walk-off' win, this time defeating the Arizona Cardinals.
Cardinals vs Patriots Recap
After the Cardinals reached field goal range with under 2 minutes to go, things looked bleak for the Patriots. Luckily, Arizona kicker Zane Gonzalez missed from 45 yards away. Then, New England used their newfound possession to advance into field goal range. QB Cam Newton rushed for a crucial 14 yards on 3rd down and 13 from the 30 yard line. As Newton moved out of bounds, Arizona safety Isaiah Simmons hit him in the head, tacking on an extra 15 yards to the play via the penalty. Following this, the Patriots offense moved down to the Arizona 32 yard line. Kicking from the 40 yard line, K Nick Folk again drilled the walk-off winner. Incredibly, this comes as Folk's second game winner of 50+ yards this season (The first coming vs. the Jets in week 9).
It's also safe to say Arizona WR DeAndre Hopkins was not fond of the penalty called on safety Isaiah Simmons. Hopkins expressed his frustrations on his Twitter postgame (shown below). This tweet was quickly deleted by Hopkins soon after.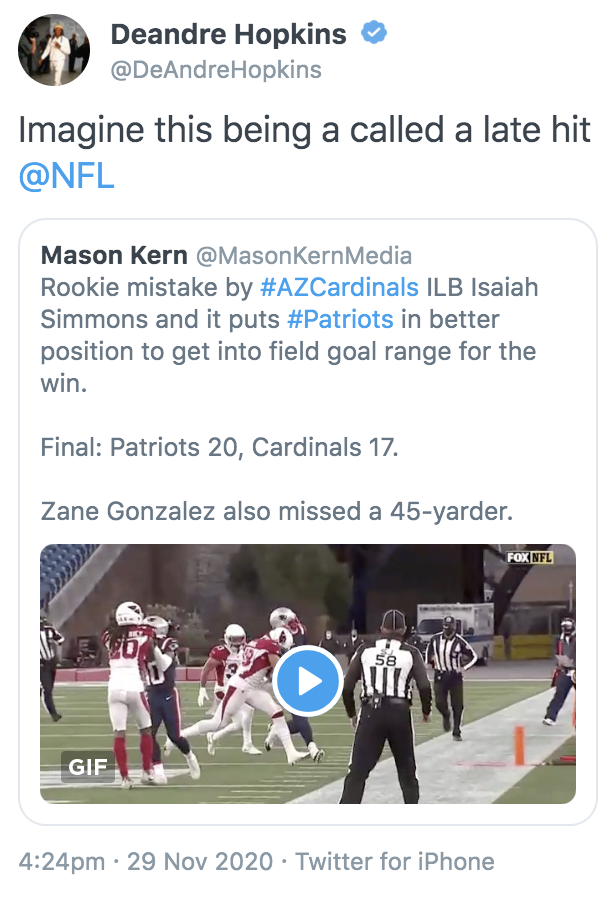 Simmons' hit on Newton was far from the most controversial call of the game. After a 'blindside block', the Patriots lost out on 7 points. WR Gunner Olszewski returned a punt for a touchdown, but the questionable blindside block call on LB Anfernee Jennings negated it. This call is especially questionable because Jennings and Arizona's Zeke Turner were facing each other (seen below).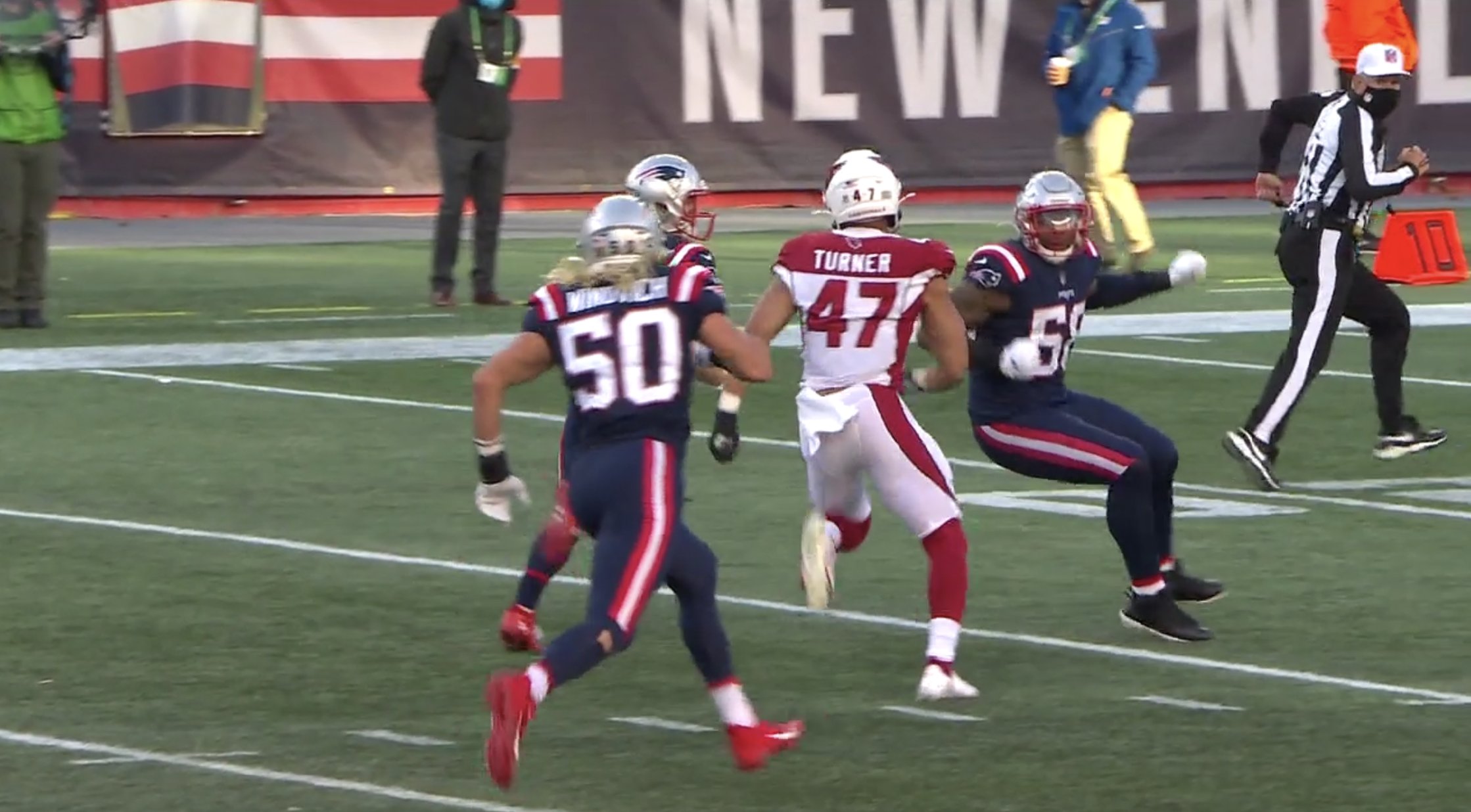 Nevertheless, the Patriots persevered and won this game.
Playoff Implications
This game helps the Patriots keep their playoff hopes alive. Their path is still somewhat unlikely, but became more possible today.
The Patriots trailed Denver, Las Vegas, Miami and Baltimore for a playoff spot last week. It is unfortunate, but Denver and Baltimore look unlikely to win this week with both of their quarterbacks placed on the Covid List. The lowly Falcons destroyed the Raiders, which leaves only the Dolphins. The Dolphins beat the Jets, as all Jets opponents have. But if the Patriots defeat the Dolphins in their next meeting and end up with the same record, the Patriots would snatch their spot due to head to head record. The division seems out of reach, but there is a path for the Pats if things work out. Their next challenge is the Chargers. The Chargers are better than their record shows, but Patriots can win easily. In all, the Patriots have a chance to fight for a low playoff seed and need to finish this 2020 season strong.
Follow me on Twitter: @BostonNationn
Featured Image via AP Photo