Baseball is Back!
Everyone get ready, the Major League Baseball season will be returning a month from now. Discussions have been going on back and forth since the original agreement was made in March. The Major League Players association agreed on Tuesday about the health and safety protocols. Commissioner Rob Manfred and MLBPA current director Tony Clark have had long discussions on the how the season would be played for quite some time now. Players will be getting their full prorated salaries. I can't speak for everyone, but me personally am just glad that fans, kids, players will get the see and play america's pastime this summer. Even though fans will not be allowed at stadiums due to COVID-19 to start the season, they will be tuning in to see the games being played. Lets play ball everyone!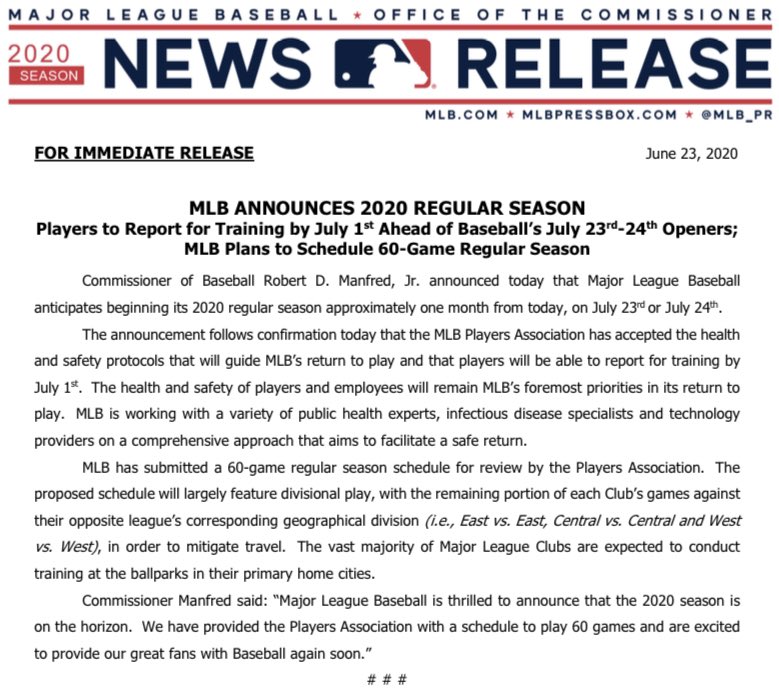 Training Camps and Start Dates
July 1st is the first day of camps at their home cities. The season will begin on July 23 or July 24th as long as health and safety are good to go. This is long overdue seeing that we are already heading into July, and normally the season would closing in on the All-Star break. Teams will be allowed to play at their home ballparks. It is good to see that baseball will be crowning a World Series champion in the fall, and it should be a good season.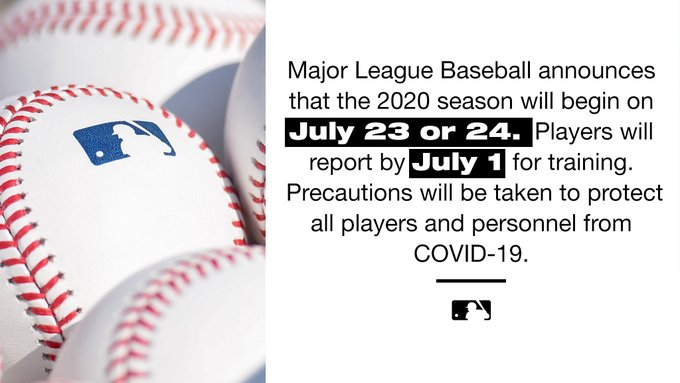 Rule Changes:
Universal Designated hitter in both National League and American League
Players that test positive for the Coronavirus will be put on a separate list, instead of the injured list. ( It's a disabled list for the players that contract COVID-19)
Extra-Inning games will start with a man on 2nd base.
Trade Deadline will be August 31st.
Teams are playing geographical teams closest to their cities.
MLB Schedule
Teams will be playing divisions that are close to where they are. Interleague will still be played, again with teams that are close to one another. Baseball will be playing 60 scheduled games this season. Playoffs are set to begin as they normally would, around the beginning of October. Also baseball would like to crown a champion by late October, the latest November 1st. The sport will be different this upcoming season, but it will be fun to see what goes on and playoff races start to heat up towards the end of the year.